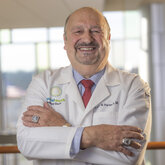 Dr. Fares is board certified in general surgery and has more than 40 years of experience in the surgical field. He completed his general surgery residency at St. Barnabas Medical Center in Livingston, New Jersey, where he was both chief resident and administrative chief. He received his medical degree from the University of Santo Tomas Medical School in Manila, Philippines. 
Dr. Fares was in private practice for 30 years prior to working at St. Francis Medical Center in Trenton, New Jersey. During his time at St. Francis, he was president of the medical staff for eight years, the longest serving chairman of the Department of Surgery for 20 years and the surgical director of the Advanced Wound Center for almost a decade. He has been on staff at Capital Health since 1992.
Throughout his distinguished medical career, Dr. Fares was the program director of the Surgical Residency Program at St. Francis Medical Center and is a clinical associate professor of Surgery at St. George's Medical School. He has been honored to be president of the Mercer County Medical Society as well as the chairman of the board of trustees of the Urban League of Metropolitan Trenton. 
In his spare time, Dr. Fares is a team surgeon for the Trenton Thunder baseball club.