Click here to view Dr. Kelly's CV/resume.
Click here to view a list of conditions and surgical services provided by Dr. Kelly.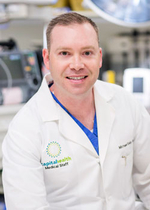 Dr. Michael E. Kelly is a fellowship trained critical care surgeon with extensive experience in general surgery and trauma surgery.
Prior to joining Capital Health, Dr. Kelly was a surgical critical care fellow at Cooper University Medical Center in Camden, NJ where he received training in both trauma surgery and critical care.
He received his medical degree from New York College of Osteopathic Medicine in Old Westbury, NY. He completed his internship and residency at Philadelphia College of Osteopathic Medicine, serving as chief resident during his final year of training. Dr. Kelly has been actively involved in research projects throughout his training and has served as co-investigator on several clinical research studies, including "National Study on the Cost and Outcomes of Trauma Care (NSCOT)" coordinated by the Johns Hopkins School of Public Health. He was also published in the American Medical Association's Arts & Humanity in Medicine publication The Healer's Voice for his dramatic monologue "The Parent." Most recently, Dr. Kelly gave a case presentation at the Philadelphia Annual Day of Trauma for Medical Professionals, sponsored by Drexel School of Medicine.
In 2006, Dr. Kelly joined the United States Army Reserve Medical Corps and has since achieved the rank of Major.
Click here for a list of accepted insurances at Capital Health Surgical Group.