Click here to view Dr. Rojavin's CV/resume.
Click here to view a list of conditions and surgical services provided by Dr. Rojavin.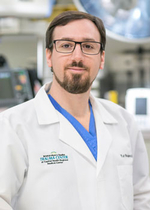 Dr. Yuri Rojavin is a fellowship trained critical care surgeon and board certified general surgeon.
He received his medical degree from Temple University School of Medicine in Philadelphia, PA and completed his residency in general surgery as chief resident at Cooper University Hospital/University of Medicine and Dentistry of New Jersey (UMDNJ). He received his fellowship training in surgical critical care at the University of Connecticut Hartford Hospital in Hartford, CT. He is board certified in general surgery by the American Board of Surgery.
He has participated as a co-investigator in clinical research studies involving novel uses of hyperbaric oxygen therapy through the UMDNJ/Robert Wood Johnson Medical School in Camden, NJ.
Dr. Rojavin has been asked to give presentations at regional medical conferences as well as grand rounds. He also has co-authored peer-review publications and an abstract publication on vascularized bone marrow transplant as a novel surgical approach. In addition to English, Dr. Rojavin is fluent in Russian and French.
Click here for a list of accepted insurances at Capital Health Surgical Group.