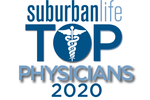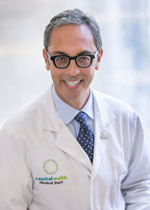 Cataldo Doria, MD, PhD, MBA, FACS
Medical Director, Capital Health Cancer Center
Hepato-pancreato-biliary Surgery
Hepato-pancreato-biliary surgeons are experts in image-guided minimally invasive surgery to treat benign masses and malignancies in the liver, gall bladder, pancreas and bile duct.
Dr. Cataldo Doria is an internationally renowned surgeon who comes to Capital Health from Thomas Jefferson University Hospital in Philadelphia, PA, where he served as the surgical director of the Sidney Kimmel Cancer Center – Jefferson Liver Tumor Center at Jefferson Medical College and director of the Jefferson Transplant Institute. He has pioneered new techniques for conditions that were once considered untreatable. He has helped develop and introduce a number of innovative procedures to treat cancer patients that were not previously available, including bloodless liver surgery, liver auto-transplantation and robotic-assisted hepatobiliary surgery.
Dr. Cataldo Doria is among the region's foremost hepato-pancreato-biliary surgery experts and is now available for consultations and procedures in Mercer County. In the past, patients would have to travel outside of the region where Dr. Doria performed surgeries. Today, he is providing a unique level of surgical expertise for patients and their referring physicians here in the greater Mercer and Bucks County area.
Because our office is located in the medical office building at Capital Health Medical Center - Hopewell, patients are able to make appointments to see several specialists on the same day in the same place. This arrangement also allows physicians to obtain immediate collaboration with colleagues as needed on a case-by-case basis. Program team members meet regularly to discuss and recommend the best treatment options for patients which may include participation in national and regional clinical studies.