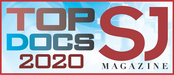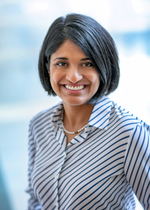 Gynecologic Oncology
Dr. Joyce Varughese is a board certified, fellowship trained gynecologic oncology surgeon who specializes in performing traditional and minimally invasive procedures using the da Vinci® robotic surgery system. Dr. Varughese completed her fellowship training in gynecologic oncology and residency in obstetrics and gynecology, serving as administrative chief resident, at Yale University. She received her medical degree at Albert Einstein College of Medicine of Yeshiva University in Bronx, New York and her undergraduate degree magna cum laude from Harvard University.
Before joining Capital Health, Dr. Varughese was interim division director of Gynecologic Oncology at Saint Peter's University Hospital in New Brunswick, New Jersey and a gynecologic oncologist at Saint Peter's Physician Associates in New Brunswick, New Jersey.
In addition to her clinical experience, Dr. Varughese is a clinical assistant professor at Robert Wood Johnson-Rutgers Medical School in New Brunswick, New Jersey. She has frequently been invited to lecture and present research at local, regional, and international medical conferences and has multiple peer-reviewed publications in Cancer, Gynecologic Oncology and other journals. She is a fellow of the American Congress of Obstetrics and Gynecology and an active member of the Society of Gynecologic Oncology where she serves on the Diversity and Inclusion Task Force and is also a congressional ambassador. Dr. Varughese is also active in the International Gynecologic Cancer Society, serving as a gynecologic cancer expert for the Virtual Tumor Board with Da Nang Hospital, Vietnam. Locally, she serves as an HPV expert for the American Academy of Pediatrics—New Jersey Chapter. She also serves on the Diversity, Inclusion, and Health Equity Committee for the Society of Gynecologic Oncology.
Click here for a list of accepted insurances at Capital Health Surgical Group.