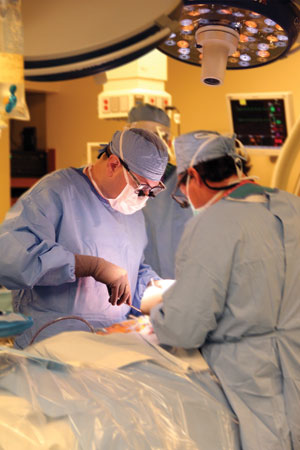 Our vascular surgeons offer the full spectrum of traditional open and minimally invasive surgical treatments of conditions that affect the vascular system (veins and arteries outside of the brain and heart).
Dr. Joshua Eisenberg, Dr. Christine Lotto, Dr. Kogulan Nadesakumaran and Dr. Jillian Walsh complement physicians who work in the vascular services field, including but not limited to vascular surgeons, cardiologists, interventional radiologists, and nephrologists. They provide surgical care in the interventional suite at Capital Health Medical Center - Hopewell where patients and referring physicians can find advanced, minimally invasive endovascular treatments that are typically found in large, academic medical centers in cities such as Philadelphia and New York City. 
Our surgeons provide the full spectrum of treatment of the vascular system, including abdominal and thoracic aortic aneurysms, carotid blockages, peripheral artery disease (PAD), venous diseases including treatment of DVT and varicose veins,  and other related conditions.
By using a two-attending approach, an OR team specially trained in the perioperative care of our patients, the implementation of a dedicated surgical intensivist for ICU care, and clinical care pathways, we are able to decrease operating times and overall length of stay for patients.
Because our office is located in the medical office building at the new Capital Health Medical Center - Hopewell, patients are able to make appointments to see several specialists on the same day in the same place. This arrangement also allows physicians to obtain immediate collaboration with colleagues as needed on a case-by-case basis. Program team members meet regularly to discuss and recommend the best treatment options for patients which may include participation in national and regional clinical studies.