Click here to view Dr. Hanna's CV/resume.
Click here to view a list of conditions and surgical services provided by Dr. Hanna.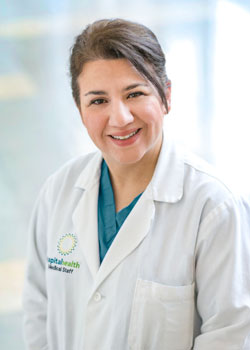 In addition to providing state-of-the-art surgical care to critically ill and injured patients at Capital Health, Dr. Niveen Hanna is available to both medical and surgical colleagues alike for immediate consultation on complex or unusual acute care, surgical critical care and general surgical cases.
Dr. Hanna specializes in elective as well as emergent general surgical procedures, including complex re-operative surgery, complex abdominal wall reconstruction/hernia repair using component separation and complex wound care and fistula care management. She joins Dr. Steven Johnson in assisting other specialists in acute emergency situations that may arise in the operating room, emergency room, ICU, inpatient or outpatient setting (e.g. pelvic bleeding intraop for OB/GYN, massive hemorrhage during vascular emergencies, the outpatient acute abdomen, multi-system trauma, etc.).
Dr. Hanna received her medical degree from the New Jersey Medical School at the University of Medicine & Dentistry of New Jersey in Newark, NJ. She completed her residency in general surgery at Lincoln Medical and Mental Health Center in Bronx, NY, where she served as chief resident in general surgery and also completed her fellowship training in surgical critical care.
Prior to joining Capital Health, Dr. Hanna was the associate director of Trauma/Surgical Critical Care at Jersey Shore University Medical Center in Neptune, NJ, where she also served as chair of the Trauma Performance Improvement Committee (2005-2013).
Dr. Hanna has earned specialty certification as an Advanced Trauma Life Support (ATLS) instructor and Basic Life Support (BLS) instructor. She also holds specialty certification in Advanced Cardiac Life Support (ACLS) and Pediatric Advanced Life support (PALS). She is double board certified by the American Board of Surgery in General Surgery and Surgical Critical Care, and a fellow of the American College of Surgeons. 
In addition to being published in professional journals, Dr. Hanna is an invited lecturer and presenter on a variety of general surgery, critical care and trauma-related topics.
Click here for a list of accepted insurances at Capital Health Surgical Group.