SEASON OF GIVING
During this Season of Giving, Capital Health is truly grateful for the outpouring of generosity, care and support from our friends and neighbors from the onset of the current public health emergency - Thank You! This Season of Giving is an opportunity to bring friends and communities together supporting programs and services that make a difference for our patients and neighbors throughout Central New Jersey and Bucks County, Pennsylvania.
Please consider a gift of support directed to the COVID-19 Emergency Response Fund or an area of healthcare system life most meaningful to you!
You can support Capital Health in response to COVID-19.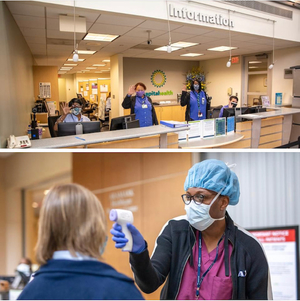 Capital Health is truly grateful for outpouring of generosity from our community throughout the past several weeks with accepted donations of Personal Protective Equipment (PPE), nourishment for our employees and needed items in the collective response to COVID-19. We understand that our community would like to donate resources addressing the emerging and critical needs that our patients and employees are facing in the wake of this pandemic. In response, Capital Health has established the COVID-19 Emergency Response Fund.
The COVID-19 Emergency Response Fund will provide financial support to the following defined areas:
Financial assistance to Capital Health employees who are experiencing notable financial distress resulting from the COVID-19 outbreak with emergency childcare expenses, housing, or food.
Provide Capital Health employees with education, support and resources to help address mental health needs during the pandemic (post-pandemic if deemed necessary).
Expand tele-communication capabilities enabling COVID positive patients to communicate with loved ones in the absence of visitor permissions.
As needed, procurement of personal protective equipment for frontline healthcare personnel.
Philanthropy has, and will continue to play a vital role in advancing Capital Health's mission to improve and preserve health and well-being. We extended our heartfelt gratitude for your support and continued caring interest!
To make your gift to the COVID-19 Emergency Response Fund, you may click here to use the online giving form or call 609-303-4121. Email inquiries may be sent to [email protected]. Please know that you will receive a prompt email acknowledgment following the completion of your gift transaction.