About the Foundation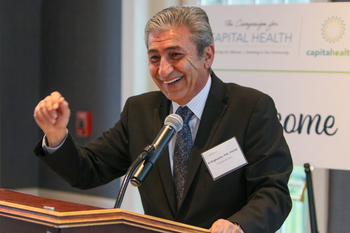 The Capital Health Foundation is the philanthropic, community outreach, and community development arm of Capital Health. Its overarching purpose is to raise and steward charitable funds to advance Capital Health's mission to improve the health and well-being of the populations we serve in urban and suburban communities.
The Foundation fulfills this purpose through a wide range of initiatives - all focused on improving health and well-being in partnership with the communities we serve assuring healthier places to live, to work, to grow and to connect.
The Capital Health Foundation is proud to partner with our grateful patients and families, colleagues, community organizations, corporations, and leaders in our community promoting a culture of philanthropy to advance the mission of Capital Health. There are many ways to support Capital Health. Learn about our giving programs or ways that you can get involved with Capital Health Foundation.