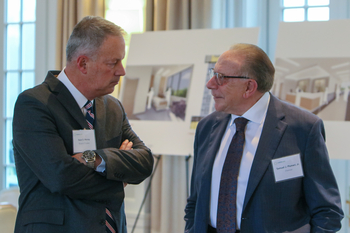 As the philanthropic arm of Capital Health, the Office of Development raises funds to support patient care excellence and improve quality of life for the patients and families we serve. Capital Health relies upon each gift of support, no matter the size, to deliver the highest level of care with the most advanced technologies and treatment options.
Impact of Philanthropy
At Capital Health, we aim to put gratitude into action. Inspired by a commitment to improving the health and well-being of all those we serve, Capital Health is proud to partner with our grateful patients and families, community organizations, corporations, and leaders. Gifts of gratitude truly enable Capital Health to address the most serious needs of our community and enable us to provide care for our patients.
Through acts of kindness and generosity, you too can join us and become a vital part of health care transformation in our region! Contact us today to speak with a member of our team.
Gratitude is Not a Small Gesture
Gratitude is not a small gesture. It is a meaningful, selfless expression from the heart. Honoring your caregivers by sharing your experience or making a philanthropic gift can make a lasting impact. Your thoughtfulness will mean the world to all of those at Capital Health who, each day, provide exceptional and compassionate care for you or your loved one. Your generosity will further enable Capital Health's vital programs and services benefiting patients, families, and our communities throughout each moment of care.
If you are especially thankful to a Capital Health caregiver or team who has touched your life, we invite you to express your gratitude by sharing your story and making a gift in their honor.
To make your gift of gratitude to Capital Health, click here to use the online giving form, call 609-303-4121 or email [email protected].
Create Your Legacy
By making a planned gift to Capital Health, you can make a significant impact that reaches beyond your lifetime to help shape the future of health care for patients and families across our region. Click here to learn more.
Become a Community Partner
We are proud to collaborate with organizations and individuals throughout our community to support fundraising efforts that make a difference for the families we serve. Click here to learn more.
Donations of Goods
Donations of goods or services, known as "gifts in kind," make a meaningful difference for the patients and families served by Capital Health. Please contact the Office of Development to speak with a member of our team and to learn more about gifts in-kind.