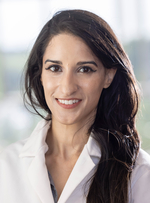 Medical Director, Epilepsy Center
Dr. Sidrah Mahmud is a board-certified neurologist and epileptologist who specializes in treating patients diagnosed with epilepsy, a chronic neurological disorder in which patients experience recurrent, unprovoked seizures. As medical director of the Epilepsy Center at Capital Institute for Neurosciences, Dr. Mahmud oversees the Institute's program which offers neurodiagnostic evaluations and a range of medical, neuropsychological and surgical services to treat those with epilepsy.
Dr. Mahmud focuses on epileptic syndromes that include (but are not limited to) Lennox Gestaut, Dravet, and tuberous sclerosis; seizure types such as tonic, non-tonic, myoclonic, atonic, and absence as well as focal seizures, generalized seizures, and multifocal seizures; and surgical interventions such as RNS, DBS, and VNS management.
Dr. Mahmud received her medical training at the Sophie Davis School of Biomedical Education in conjunction with SUNY Downstate Medical Center College of Medicine in Brooklyn, New York. After completing her internal medicine internship at Flushing Hospital Medical Center in Flushing, New York, Dr. Mahmud completed her neurology residency at North Shore LIJ Health System in Manhasset, New York, in affiliation with Hofstra University/Northwell Health. Dr. Mahmud was fellowship trained in epilepsy at Yale University School of Medicine in New Haven, Connecticut, where she also completed a second fellowship in clinical neurophysiology.
Dr. Mahmud is a clinical assistant professor of Neurology at Stony Brook University's Renaissance School of Medicine.Before joining Capital Health, she was a physician in the Epilepsy Center at Stony Brook University Neurosciences Institute in Stony Brook, New York.
Dr. Mahmud's research experience includes epilepsy/neurology studies at Yale University, North Shore-Long Island Jewish Health System, Zucker School of Medicine at Hofstra University/Northwell Health and the Brooklyn Health Disparities Center. She has published research in peer-review journals, books and poster presentations for national medical societies and has been invited to teach and give presentations at North Shore-Long Island Jewish Health System, Stony Brook University Hospital, and the American Epilepsy Society.
Dr. Mahmud is a member of the American Epilepsy Society and the American Academy of Neurology.
Click here for a list of accepted insurances at the Capital Institute for Neurosciences.