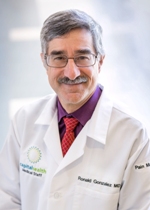 Dr. Ronald Gonzalez is board certified in physical medicine and rehabilitation and joined the Capital Institute for Neurosciences after years of private practice in the greater Mercer County area. He is also certified by the American Board of Electrodiagnostic Medicine.
Dr. Gonzalez is part of the Institute's Center for Pain Management dedicated to helping patients manage chronic pain with a combination of physical modalities, medications, trigger point and joint injections. Also has expertise in neck/back pain, musculoskeletal and soft tissue injuries.
Dr. Gonzalez completed a physical medicine and rehabilitation residency at New York Presbyterian-Columbia University Medical Center in New York City, where he served a term as chief resident. He also completed an internship in general surgery at South Baltimore General Hospital in Maryland and earned his medical degree from the Universidad Central del Caribe Escuela de Medicina in Puerto Rico. He is a member of the Hispanic American Medical Association of New Jersey.
Dr. Gonzalez's extensive clinical experience includes electrodiagnostic testing to help determine the function of muscles and nerves and the cause of pain, numbness and loss of strength.
Click here for a list of accepted insurances at the Capital Institute for Neurosciences.