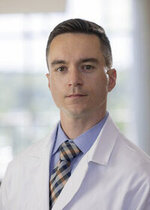 Dr. Adison Weseloh is board certified in physical medicine and rehabilitation and joined the Center for Pain Management at Capital Institute for Neurosciences after completing his medical training at the University of Pennsylvania. He completed a fellowship in interventional spine and musculoskeletal medicine (recognized by the North American Spine Society) at the University of Pennsylvania, where he trained in the diagnosis and management of complex non-operative, conventional and interventional management of musculoskeletal and spine conditions using ultrasound and fluoroscopically-guided injections. Dr. Weseloh supports alternative and holistic treatments and emphasizes patient understanding of their conditions to facilitate ways to help the body heal itself.
Dr. Weseloh served as director of the University of Pennsylvania's Physical Medicine and Rehabilitation Prosthetics & Orthotics course and has presented research at national and international medical conferences. He is a member of many professional medical organizations, including the American Academy of Physical Medicine and Rehabilitation, the Association of Academic Physiatrists, the American Society of Interventional Pain Physicians, the Spine Intervention Society, and the American Association of Neuromuscular & Electrodiagnostic Medicine.
Dr. Weseloh has special interests in nutrition, exercise physiology, diabetic lifestyle management, and optimization of health span. He enjoys running, fishing, hiking, and barbequing as well as golfing and soccer.
Click here to schedule an online appointment with Dr. Weseloh.
Click here for a list of accepted insurances at the Capital Institute for Neurosciences.