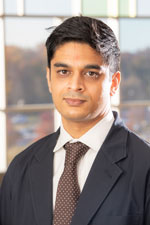 Outpatient Neurologist and Neurohospitalist
Dr. Miten Patel is board certified in neurology and fellowship trained in neuromuscular medicine. He received his medical degree at University College London in London, England, where he was awarded a distinction in medical sciences (given to the top 10% of the class). He went on to complete further graduate studies at University of Cambridge and conducted research at the Sanger Institute, which cumulated in an MPhil degree, where he was also awarded a distinction.
Dr. Patel completed his neurology residency at Montefiore Medical Center/Albert Einstein College of Medicine in New York, New York, where he also completed his fellowship training in neuromuscular medicine, with an emphasis on electromyography (EMG). EMG is used to detect neuromuscular abnormalities by measuring electrical activity and muscle response to a nerve's stimulation of the muscle.
During his time at Albert Einstein College of Medicine, Dr. Patel instructed and provided bedside education to rotating medical students on their neurology clerkships. His teaching was recognized with the Leo M. Davidoff Award for Outstanding Teaching of medical students. He has published research in peer reviewed medical journals.
Fluent in English and Gujurati, Dr. Patel is a volunteer with BAPS Charities chapters in Robbinsville and Edison, New Jersey, promoting wellness and providing preventive care at health fairs in local communities.
Click here for a list of accepted insurances at the Capital Institute for Neurosciences.