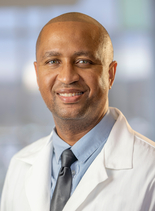 Director, Comprehensive Headache Center
A board certified and fellowship trained neurologist, Dr. Dwayne Brown is director of the Comprehensive Headache Center at Capital Institute for Neurosciences, part of Capital Health. At the Comprehensive Headache Center, Dr. Brown offers a multi-disciplinary approach to patients and a variety of services to treat migraine headache, tension headache, cluster headache, trigeminal autonomic cephalgia, CSF leak headache, high pressure headache, facial pain and various secondary headache conditions. In addition, Dr. Brown offers procedures such as Botox for migraine, trigger point injections and nerve blocks.
Board certified in neurology, Dr. Brown completed his headache and facial pain fellowship training at Yale University School of Medicine in New Haven, Connecticut. He earned his medical degree from Edward Via Virginia College of Osteopathic Medicine in Blacksburg, Virginia and completed his residency training at Stony Brook University Hospital in Stony Brook, New York, where he served as chief neurology resident. He also earned his Doctor of Philosophy degree in pharmacology from Howard University College of Medicine in Washington, D.C.
Dr. Brown's research has been published in national and international publications, including Neurology, Neurotoxicity Research, The Journal of Molecular Neuroscience, Neuroscience Letters and Neurochemistry International. He is a member of the American Osteopathic Association, Society for Neuroscience, American Association of Neurology and the American Headache Society.
Dr. Brown's volunteerism includes mentoring students from disadvantaged backgrounds to pursue their interests in medicine and serving on a mission trip to El Salvador to provide medical services to rural communities, orphanages and an HIV shelter.
Click here for a list of accepted insurances at the Capital Institute for Neurosciences.