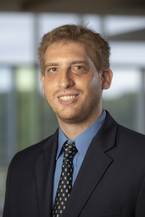 Dr. David Kiviat received his medical degree from the University of Florida, where he also completed his neurology training. He has treated patients in both inpatient and outpatient settings and has managed care in neuro ICU, stroke care, and inpatient neurology service, with extensive experience with high acuity cases.
Dr. Kiviat has contributed to the surgical workups for anterior temporal lobectomies and deep brain stimulation and has participated in all aspects of the deep brain stimulation process, including patient selection, surgical planning, intraoperative mapping/lead placement (on both the neurology and neurosurgery side), and battery placement. He is also experienced in neuroradiology (CT, CTA and MRI interpretation and advanced modalities such as MR spec and perfusion), routine and long-term electroencephalograms (EEG) studies, and lumbar punctures.
In academic settings, Dr. Kiviat has presented lectures and provided instruction for courses in neuroanatomy, and pharmacology. His academic interests include quantitative EEG analysis, computational modeling, and application of machine learning to medicine. He is a member of the American Academy of Neurology.
Click here for a list of accepted insurances at the Capital Institute for Neurosciences.