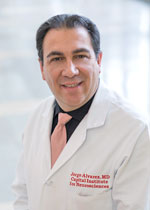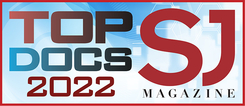 Director, Interventional Pain Management
Dr. Jorge Alvarez is board certified in the specialties of anesthesiology and pain medicine with additional certification in interventional pain management.
Dr. Alvarez completed his internship and residency training at Cleveland Clinic in Cleveland, OH and then his pain management fellowship at the State University of New York at Buffalo. He earned his medical degree from Universidad J. N. Corpas Medical School in Bogota, Colombia.
Dr. Alvarez volunteered his clinical skills in the Department of Anesthesiology at Roswell Park Cancer Institute at the University at Buffalo as well as the Department of Anesthesiology at Mayo Clinic in Rochester, MN, providing pain management services at both.
He has published works and presented on topics including thoracic epidural analgesia in postoperative pain, anesthetic blocks of the head and neck for surgical procedures and pain management, as well as anesthetic and neurolitic blocks for pain management.
He is an active member in many national professional societies, including the American Society of Anesthesiology, American Association of Regional Anesthesia and Pain Management, American Academy of Pain Medicine, American Society of Interventional Pain physicians (ASIPP), International Association for Study and Treatment of Pain (IASP), among others. In addition to English, he is also fluent in Spanish and Portuguese.
Click here to schedule an online appointment with Dr. Alvarez (Hopewell location).
Click here to schedule an online appointment with Dr. Alvarez (Langhorne location).
Click here for a list of accepted insurances at the Capital Institute for Neurosciences.