Neuro Critical Care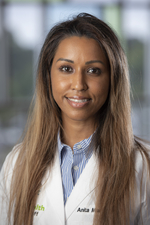 Dr. Anita Maraj is a fellowship trained neurocritical care physician. She completed her fellowship training in neurocritical care at Cleveland Clinic in Cleveland, OH. Dr. Maraj received her medical degree at American University of Antigua in New York, New York and completed her internship in internal medicine at Albany Medical Center in Albany, New York, where she also completed her neurology residency.
She has presented research and lectures at Cleveland Clinic and Albany Medical Center on topics that include neuroprognostication, encephalitis, fluid assessment in brain injured patients, and critical care EEGs.
Dr. Maraj is a member of the American Academy of Neurology.
Click here for a list of accepted insurances at the Capital Institute for Neurosciences.