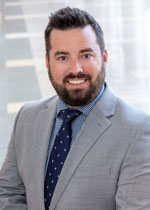 Dr. Luke Amann is a fellowship trained clinical neuropsychologist.  He earned his doctoral degree in clinical psychology at Chestnut Hill College in Philadelphia, PA, where he also received his Master of Science degree in counseling psychology. He completed post-doctoral studies in neuropsychology at Clinical Neuropsychology Associates in Philadelphia, PA.
Dr. Amann is trained to conduct neuropsychological evaluations, which include clinical interviews, standardized testing administration, scoring, interpretation and reporting. These evaluations can assist with differential diagnosis, treatment planning, and psychosocial recommendations.
Dr. Amann also provides cognitive rehabilitation services and psychotherapy. Cognitive rehabilitation is an outpatient treatment based on brain-and-behavior relationships that is designed to improve a patient's overall functioning and to assist them in restoring and maintaining their everyday activities following traumatic brain injuries or other acquired neurological injuries.  Psychotherapy is an outpatient treatment that is focused on improving a patient's overall emotional, social, and relational functioning.  These treatments are conducted through a one-on-one collaborative relationship between the patient and Dr. Amann. 
Prior to joining Capital Health, Dr. Amann served as a neuropsychologist at Clinical Neuropsychology Associates, where he provided neuropsychological and psychological assessments and conducted outpatient cognitive rehabilitation, outpatient psychotherapy, and supervision with neuropsychology students.
Dr. Amann is a member of the executive board of directors and an advisor on concussion assessment and testing for the Athlete Health Organization in Philadelphia, PA. He is a member of the National Academy of Neuropsychology and the American Psychological Association.
Click here for a list of accepted insurances at the Capital Institute for Neurosciences.