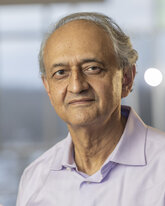 Dr. Grewal is a board certified neurologist with more than 30 years of experience. He completed his neurology/neuromuscular fellowship and electromyography fellowship training at Columbia University in New York City, New York. He completed his residency in neurology at Harbor UCLA Medical Center (UCLA School of Medicine) in Torrance, California and was chief resident in his final year. Dr. Grewal received his medical degree from the University of Alberta in Edmonton, Alberta, Canada. He is certified by the American Board of Psychiatry and Neurology and by the board of Neuromuscular Medicine.
Prior to joining Capital Health, Dr. Grewal worked at St. Francis Medical Center in Trenton. Over the years, he has held a variety of positions, including medical director at the Neurogenetics Institute in Sharon Hill, Pennsylvania and professor of Neuroscience in the School of Health and Medical Services, Seton Hall University, in South Orange, New Jersey.
Dr. Grewal's clinical focus is in the diagnosis and treatment of neuromuscular disorders, including neuropathy, myopathy, myasthenia gravis and motor neuron disease (ALS). His research interests involve the genetics of neurological disease, including complex disorders, such as stroke, to single gene disorders such as muscular dystrophy.  
Click here for a list of accepted insurances at the Capital Institute for Neurosciences.