Commitment to Stroke Care. Commitment to Quality.
Capital Health recognizes that treating stroke, one of the leading causes of death and disability, is a critical healthcare service for the communities we serve. With an expert team available 24-hours-a-day, 7 -days-a-week, both of our hospitals have a demonstrated commitment to providing high quality, compassionate, and comprehensive stroke care.
Certifications and Recognitions
Joint Commission

Capital Health Regional Medical Center is a Joint Commission Comprehensive Stroke Center, as well as a State of NJ designated Comprehensive Stroke Center. Joint Commission certification recognizes hospitals that are able to receive and treat the most complex stroke patients.
Every two years, Regional Medical Center undergoes a rigorous recertification process which includes a multi-day onsite visit by the Joint Commission. To achieve certification the hospital must meet various criteria including those that address volume, capabilities, and quality measurements. The certification recognizes that in order to treat the most complex patients, the hospital must provide significant resources, staff, and training, to meet the needs of these patients.
Capital Health Medical Center – Hopewell is a Joint Commission Primary Stroke Center, and a State of NJ Primary Stroke Center. This certification, also obtained through rigorous onsite review, recognizes our organization-wide commitment to treating stroke. Primary Stroke Centers are recognized as making "exceptional efforts to foster better outcomes for stroke care." Certification shows that we have the necessary services and processes that are critical elements to achieve long-term success in improving outcomes.
Get With the Guidelines® - Stroke Recognition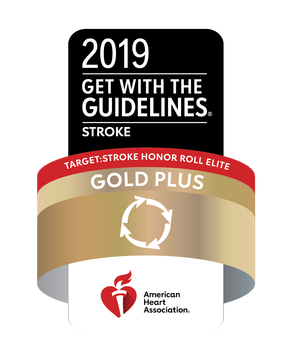 Capital Health Regional Medical Center is a 2019 Get with the Guidelines Gold Plus hospital.
Hospitals receiving Get With The Guidelines® Gold Plus Achievement Award have reached an aggressive goal of treating patients with 85% or higher compliance to core standard levels of care as outlined by the American Heart Association® for two consecutive calendar years. In addition, those hospitals have demonstrated 75% compliance to (four out of 10 heart failure quality measures or seven out of 10 stroke quality measures) during the 12-month period.
Regional Medical Center is also a 2019 Target Stroke Honor Roll Elite which recognizes hospitals achieving time to thrombolytic therapy ≤ 60 minutes in 75% or more of applicable acute ischemic stroke patients treated with IV tPA to improve quality of patient care and outcomes.
By the Numbers 2018
Capital Health Regional Medical Center – Comprehensive Stroke Center
Average Door to Needle Time: 53 minutes
 
Capital Health Regional
Medical Center - 2018
Certified TJC/AHA Comprehensive
Stroke Center hospitals -2018
VTE Prophylaxis
98.9%
98.1%
Discharged on Antithrombotic
99.6%
99.8%
Discharged on Statin
98.7 %
99.0%
Stroke Education Provided
97.6%
96.3%
Assessed for Rehabilitation
100%
99.5%
Procoagulant Reversal Agent - ICH
100%
95.6%
Nimodipine Treatment Administered - SAH
100%
91.4%