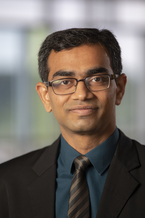 Dr. Pratit Patel is board certified in vascular neurology, neurology and neurosonology (ultrasonic imaging of the brain and other neural structures). Fellowship (CAST Accredited) trained in endovascular surgical neuroradiology. He treats patients who experience stroke, aneurysms, carotid artery stenosis, intracranial hemorrhage, arteriovenous malformations, dural arteriovenous fistula and other neurovascular conditions.
Dr. Patel completed his neurology residency at the University of Minnesota in Minneapolis, Minnesota, where he served as chief resident of Academic Affairs. He was fellowship trained in vascular neurology at University of Pittsburgh Medical Center in Pittsburgh, Pennsylvania and later completed additional CAST accredited fellowship training in endovascular surgical neuro-radiology at Rutgers University in Newark, New Jersey. Dr. Patel received his medical degree at Surat Municipal Institute of Medical Education and Research in Surat, India.
Before joining Capital Health, Dr. Patel worked with inpatient neurology and the stroke neurology team at St. Barnabas Medical Center in Livingston, New Jersey. He has enrolled patients in clinical trials and published research in abstracts and peer-reviewed journals. Dr. Patel is a member of the American Academy of Neurology, the Society of Vascular and Interventional Neurology, the Society of Neuro-interventional Surgery, and the American Heart/Stroke Association.
Dr. Patel has special interest in treating:
Trans-radial approach for cerebral angiography
Cerebral aneurysms
Acute ischemic stroke
Carotid artery stenosis and intracranial atherosclerosis
Carotid/Vertebral artery dissection
Arteriovenous malformation
Arteriovenous fistula and pulsatile tinnitus
Click here for a list of accepted insurances at the Capital Institute for Neurosciences.