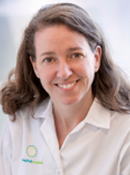 Dr. Alexandra Landen is board certified in neurology and joined the Capital Institute for Neurosciences from Jefferson University Hospitals in Philadelphia, PA.
Dr. Landen treats patients with movement disorders, Parkinson's, essential tremor, atypical Parkinson's (multisystem atrophy, progressive supranuclear palsy, and corticobasilar degeneration), dystonia, ataxia, tic disorders and spasticity.
Dr. Landen received her Doctor of Osteopathy degree from the University of Medicine and Dentistry of New Jersey (UMDNJ) after completion of her Master of Physical Therapy degree, which she received from UMDNJ as well. Following the completion of her degrees, Dr. Landen completed a neurology residency, followed by a fellowship in movement disorders at Georgetown University Hospital in Washington, DC. During her fellowship in movement disorders, she received intensive training in deep brain stimulation, botulinum toxin injections and the medical management of Parkinson's disease and related movement disorders.
Dr. Landen's clinical experience includes caring for patients at all levels of Parkinson's disease in a multidisciplinary approach including medical management, physical, occupational and speech therapy. She is trained in all four botulinum toxins (Botox, Xeomin, Dysport and Myobloc) with electromyography guidance for treatments of dystonia and spasticity, conditions that can be the result of a movement disorder or other neurologic condition such as multiple sclerosis or post stroke. She also utilizes botulinum toxin to treat sialorrhea which can be due to Parkinson's disease.
Click here for a list of accepted insurances at the Capital Institute for Neurosciences.