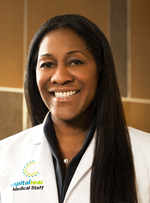 Director, Thoracic Surgery
Dr. Africa Wallace is a board certified thoracic surgeon who specializes in minimally invasive cardiothoracic procedures using video-assisted or robotic approaches. She obtained a Bachelor of Arts degree in biology from Harvard University and received a medical degree from the Georgetown University School of Medicine in Washington, D.C. Dr. Wallace completed her general surgery residency at Georgetown University Hospital and her cardiothoracic surgery residency at the University of Pittsburgh Medical Center (UPMC) in Pennsylvania. In addition, she completed postgraduate training as a minimally invasive thoracic and esophageal surgery fellow at UPMC.
Before joining Capital Health, Dr. Wallace was a thoracic surgeon at Piedmont Heart Institute, part of Piedmont Healthcare in Atlanta, GA. She has participated in research in the areas of thoracic oncology at University of Pennsylvania, cardiovascular biology at Harvard School of Public Health, rheumatology and immunology at Brigham and Women's Hospital, and nephrology at Boston Children's Hospital. Some of her research has been published in medical journals and presented at numerous medical conferences.
Dr. Wallace is currently secretary of the Eastern Cardiothoracic Surgical Society. She serves on the Diversity and Inclusion Task Force of the Society of Thoracic Surgery. In addition, she is a member of the Women in Thoracic Surgery and Association of Women Surgeons. Her current research interests include racial disparities in the surgical management of thoracic cancers and clinical outcomes as they pertain to minimally invasive approaches to pulmonary and esophageal surgery. In her spare time, Dr. Wallace enjoys volunteering for community organizations.
Click here for a list of accepted insurances at Capital Health Surgical Group.