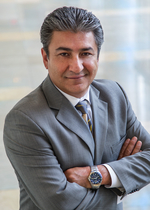 President & Chief Executive Officer
Capital Health
Al Maghazehe is the president and CEO of Capital Health, a very successful two-hospital health system comprised of the Capital Health Regional Medical Center in Trenton and Capital Health Medical Center – Hopewell and an outpatient facility in Hamilton Township. To complement the healthcare system, he built a comprehensive network of primary care physician offices. He has led the transformation of Capital Health from an inner-city health system to a regional healthcare destination, attracting patients from throughout New Jersey and Bucks County, PA and specialists from all over the country.
Under Maghazehe's leadership, Capital Health received a $756 million financing arrangement from the U.S. Department of Housing and Urban Development, the largest ever granted by the agency in its history. The financing enabled Capital Health to build a new, state-of-the-art hospital in Hopewell Township, NJ and to expand Capital Health Regional Medical Center to specialize in advanced medical care.
Maghazehe joined Helene Fuld Medical Center in 1979, where he began his professional career as a graduate school intern and progressed to Chief Executive Officer. He was named president and CEO of Capital Health in 1998.
Maghazehe received his doctorate in Business Management from Pacific International University, California, a master's degree in Health Services Administration from Wagner College, New York, and a bachelor's degree from the Institute of Paramedical Sciences. He is a Fellow of the American College of Healthcare Executives.