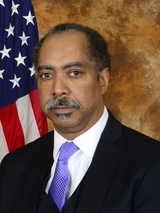 Born in Warrenton, North Carolina and raised and educated in New Jersey, the Rev. John Taylor was employed by a cooling system company for 35 years, during which time he began his life of service. He became a member of Spotlight Holy Temple Church in Trenton, New Jersey in 1978, where he served under the leadership of the late Bishop Joe G. Sykes as Sunday School superintendent and teacher, secretary of the Elder's Council, personal aide to Bishop Sykes, and president of the Spotlight Holy Temple Church Bible School. Acknowledging his call to the ministry, Taylor was ordained and continued his theological education by graduating from the Rehoboth Full Gospel Bible Institute of Philadelphia, Pennsylvania. After the passing of the late Bishop Sykes, he was appointed pastor of Spotlight Holy Temple, where he served for 13 years. In 2001, Taylor founded and became Pastor of New Beginning Christian Worship Center, Inc. in Hamilton Township, New Jersey. In 2007, he was called to temporarily serve as Interim Pastor of Friendship Baptist Church in Trenton and was elected Pastor in 2009.
Taylor's ministry enables him to work with the Concerned Pastors and Ministers of Trenton, a city church fellowship group. In 2011, he was appointed by the Rev. Guy Campbell of the General Baptist Convention of New Jersey, Inc. to the Constitution and By-Law Committee and the Strategic Planning Committee. In 2012, he was elected 3rd Vice Moderator of Area III of the Middlesex Central Baptist Association, Inc. These organizations are responsible for bringing together the area churches in an effort to bridge the gap of denomination that is so prevalent within the church community.
Presently, Taylor is President of the Trenton Capital City Community Coalition (CCCC) and is a board member at the Old Barracks Museum in Trenton. He serves with the Interfaith Advisory Council for the State of New Jersey and is a certified counselor of Marriage Savers, Inc. He also received training in Church Management and Tax Financial Services (Clergy, Tax & Law). Taylor is a member of the Coalition for a New Community, the Covenant Partner's Association of Trenton, the Interdenominational Ministerial Alliance of NJ, the Middlesex Central Baptist Association of NJ, Inc., and Faith In New Jersey. He has received accolades from the U.S. Department of Justice for outstanding service to the local community and enduring contributions to the advancement of justice and was recently named the first African American Chief Chaplain for the State Police of New Jersey by the Governor of New Jersey Phil Murphy. In 2021, Taylor received the Excellence in Policing Award Police Chaplain of the Year award for the State of New Jersey from Attorney General Andrew J. Bruck.
Taylor has been married to his wife, Leola, for 42 years. They have four children and six grandchildren.