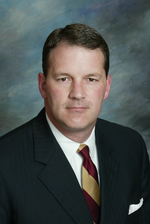 Chairman, Capital Health Hospital Board of Directors
Treasurer, Capital Healthcare, Inc. Board of Trustees
Sean Murray is the market executive and senior vice president of Fulton Bank, NA in the central region of New Jersey. He is responsible for growing the Bank's commercial banking business and introducing the Fulton Bank brand to the region.
Prior to Fulton Bank, Sean served as market executive of the New Jersey market for wealth advisory services at Wilmington Trust in Princeton, and prior to that as managing director and senior vice president of the wealth management group at First Union/Wachovia Bank in West Trenton. He holds a BA in economics from Guilford College, Greensboro, NC, and an MBA from Villanova University.
In addition to serving on the Capital Health Board of Directors, Sean sits on the board of trustees for Thomas Edison University Foundation and serves on the executive board of the Washington Crossing Council, Boy Scouts of America.