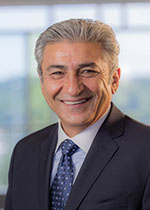 Welcome to Capital Health. We are pleased that you and your physician chose us to provide your medical care.
Our mission is to provide comprehensive, quality health care services which improve and sustain the health status of the residents primarily in Central New Jersey and Lower Bucks County, although patients come to us for their care from well beyond this region. Our physicians, nurses and clinical staff provide technologically advanced, comprehensive and compassionate health care to our patients at every stage of life, and our support services staff are here to make sure that your visit with us is comfortable so you can focus on your healing and wellness. 
From our five consecutive Magnet® recognitions for excellence in nursing to our state-of-the-art facilities, we continue to focus on care that is patient- and family-centered—putting your satisfaction and needs above all else. Our caring staff will assist you in every way they can to provide the very best medical care and comfort during your stay. 
We are committed to excellence in the services we provide and invite you to share your compliments and concerns with our patient advocates at both hospitals or the office managers at our many Capital Health Medical Group offices across the region. If you have questions about your treatment or hospital stay, please do not hesitate to also talk to your nurse or any member of your health care team. As a patient at Capital Health, you are our guest but you are also the most important member of our health care team.
We consider it a privilege to make your stay as pleasant as possible, and we wish you a speedy return to good health.
Sincerely,
Al Maghazehe, PhD, FACHE
President and Chief Executive Officer
Capital Health