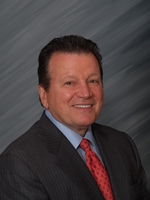 Treasurer, Capital Health Hospital Board of Directors
In April 2019, Donald Loff retired from Merrill Lynch after more than 41 years in the securities industry at various firms. He was a wealth management advisor serving high net worth clients and institutional investors.
Loff is a Magna Cum Laude graduate of Baruch College. He completed the educational component of the Certified Investment Management Analyst (CIMA®), awarded by Investment Management Consultants Association (IMCA) at the Wharton School of the University of Pennsylvania.
He has served on numerous boards and committees of various business, educational and non-profit organizations over the past four decades, including having served as chair of the MidJersey Chamber of Commerce, the Princeton Regional Chamber of Commerce and the Mercer County Community College Board of Trustees. He was appointed to the New Jersey Commission on Higher Education, and prior to that, served as chair of the New Jersey State Council of Community Colleges and represented the state's community colleges on the prior New Jersey Board of Higher Education. He currently serves on the Advisory Council to the Dean of the School of Liberal Arts & Sciences at Baruch College, CUNY, and on the Atlantic Reined Cow Horse Association Board of Directors as well as the Capital Health System Hospital Board of Directors where he serves on both the Finance and Audit Committees.
He and his wife Amy and their Australian shepherd, Darla, reside in Bucks County, PA. In their leisure time, they compete on their American Quarter Horses in reined cow horse events. Don is also an avid tennis player and has served on numerous tournament committees for various local tennis organizations.