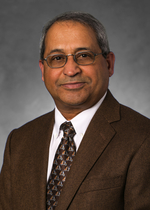 Dr. Telechery Sudhakar is a retired nephrologist, having provided care to patients for many years as part of the Mercer Kidney Institute. He remains board certified in internal medicine and nephrology and is currently chair of the Quality and Safety Committee at Capital Health. He was appointed to the Capital Health Board of Directors in December 1997 and served as chairman of the Strategic Planning Committee at Capital Health from 1999 to 2017.
Dr. Sudhakar received his medical degree from Mysore University in India. He also completed his residency at Helene Fuld Medical Center in Trenton, N.J. and completed a fellowship at Veterans Affairs Hospital in Washington, DC. He is the former president of the Medical Staff of Helene Fuld Medical Center, serving from 1993-1995, and former chief of the Section of Nephrology at the Capital Health – Mercer Campus. He was the former assistant professor of Medicine at Hahnemann Medical College in Philadelphia, Pa. and fellow of the Academy of Medicine of New Jersey.
He is a member of the American Society of Nephrology, National Kidney Foundation, International Society of Nephrology, Renal Physician Association, and American Medical Association.