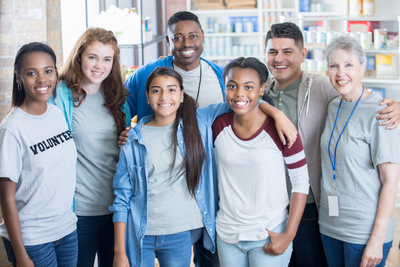 The Junior Volunteer Summer Program offers a unique opportunity for teen volunteers to learn about having compassion for others while gaining experience supporting patients, families, and staff in a hospital setting. While we do not offer opportunities for volunteers to shadow medical staff or gain clinical experience, we do offer a number of exciting and rewarding assignments. In addition to the hospital setting, teen volunteers can also gain experience in retail business by being a part of our Thrift Store or gift shops and build their entrepreneurship skills.
Requirements for the Summer Program
Eligibility Age: 15 to 18 years (student should be 15 years at the time of the program orientation)
Commit to entire length of program and consistent attendance
Complete the Junior Volunteer Summer Program application form
Submit reference letter
Submit Junior Volunteer Health Screening form
Schedule and complete your interview by deadline provided in the welcome email
Receive your volunteer placement confirmation
Attend the orientation program
Ready to start volunteering!
Click here to read details about the opportunities available for the Summer Program for Juniors.
Out of an abundance of caution for the health and safety of our patients, their families and our staff, our volunteer programs are temporarily suspended. We will not be accepting any new volunteer applications until further notice.
Please note that we do not offer any internship or shadowing opportunities for adults, students or juniors.
If you have any questions, please contact the Volunteer Services department between 8 a.m. - 4:30 p.m. Monday through Friday. Call 609-303-4023 or email [email protected].