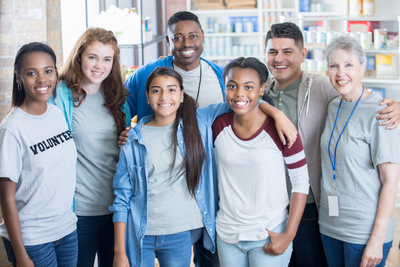 The Junior Volunteer Program offers a unique opportunity for teen volunteers to learn about having compassion for others while gaining experience supporting patients, families, and staff in a hospital setting. While we do not offer opportunities for volunteers to shadow medical staff or gain clinical experience, we do offer a number of exciting and rewarding assignments. In addition to the hospital setting, teen volunteers can also gain experience in retail business by being a part of our gift shops and build their entrepreneurship skills.
Our Junior Program is designed with the goal of teaching compassion for others while providing educational information and a behind-the-scenes look at health care careers. The program requirements and eligibility are listed below but for more details please click on the relevant program links.
Requirements for the Junior Program
Volunteer Application: Online submission only.
Service Hour Requirement: Volunteers are expected to commit to a minimum of 56 hours for the Summer Program and complete schedule for the FALL Program.
Medical Clearance: Provide immunization records for or undergo immunization screenings for:
Measles, mumps, rubella (MMR)
Chickenpox (Varicella)
Tuberculosis (Quantiferon bloodwork)
Flu shot if volunteering during flu season
Fully vaccinated for COVID -19 at the start of volunteering (2 dose series Pfizer/Moderna; 1 dose of Johnson and Johnson/Janssen) and Booster shot.
Orientation/Training: Orientation and on-site training must be attended to complete on boarding process.
SUMMER Program
The Junior Summer Program is a 7-week program designed for students ages 15 or older. The program runs from July to August every year. For program requirements, please click here.
We are no longer taking applications for our 2023 Summer Junior Program. Applications for the 2024 Summer Junior Program will be available on our website on February 1, 2024.
FALL Program
The Junior Fall Program is designed for students ages 15 or older and runs from October to December. Our 2023 Fall Program application will be available for a select few positions on August 15, 2023. For program requirements and eligibility, please click here.
Click here to read details about the different opportunities available for Juniors.
Click here to read about the current community service opportunities available for students.
Please note that we do not offer any internship or shadowing opportunities for adults, students or juniors.
If you have any questions, please contact the Volunteer Services department between 8 a.m. - 4:30 p.m. Monday through Friday. Call 609-303-4023 or email [email protected].