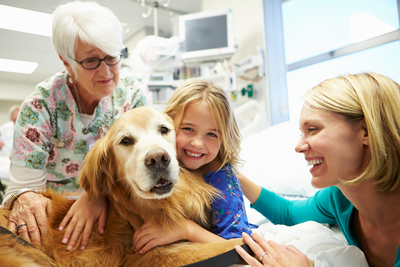 We offer Pet Therapy visits to our In-patients at both our campuses at Hopewell and Trenton. If you have a certified pet and would like to join our team, please apply online and help bring comfort to our patients and staff.
Requirements for the Pet Therapy Program
Volunteer Application: Online submission only.
Personal Interview: Meet with the manager of Volunteer Services along with your pet.
Service Hour Requirement: Volunteers are expected to commit to a visit once a week for a duration not more than 2 hrs and must be able to commit to a confirmed schedule.
Certification: The pet must be certified by either of the certifying agencies - The Bright & Beautiful Therapy Dogs, Inc or Therapy Dogs International. Proper documentation for the same needs to be provided.
Medical Clearance (Pet Owner): Provide immunization records for or undergo immunization screenings for:
Measles, mumps, rubella (MMR)
Chickenpox (Varicella)
Tuberculosis (Quantiferon bloodwork)
Flu shot if volunteering during flu season
Fully vaccinated for COVID -19 at the start of volunteering (2 dose series Pfizer/Moderna; 1 dose of Johnson and Johnson/Janssen) and Booster shot
Medical Clearance (Dog): Provide immunization records for the dog for:
Vaccination form (NASPHV # 51 Rabies or Veterinarian proof of vaccination)
Current vaccination against: Distemper (DAPP); Hepatitis (DAPP);Parainfluenza (DAPP); Parvovirus (DAPP); Leptospirosis
Annual Fecal Exam
Veterinarian certification that dog is fit to participate in a visiting program
Criminal Background Check: Will be run once all medical clearance is received. This includes Social Security number verification.
Orientation/Training: Orientation and on-site training must be attended to complete on boarding process.
If you have any questions, please contact the Volunteer Services department between 8 a.m. - 4:30 p.m. Monday through Friday. Call 609-303-4023 or email [email protected].