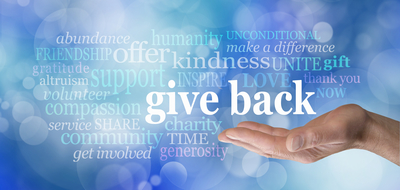 We appreciate the thoughtfulness and dedication of our community members, who often provide donations to help us better serve our patients and their families and visitors. Through general donations or supporting various in-house projects, you make an important difference in many lives.
Engaging in community service provides you with the opportunity to become active members of their community and has a lasting, positive impact on society at large. Community service or volunteerism enables us to acquire life skills and knowledge, as well as provide a service to those who need it most.
There are various options for volunteers of any age to serve their community and accumulate community service hours. We will provide a certificate for Community Service Hours if requested upon drop off. Here's how you can help:
Magazine Drive: Current Magazines in any language are greatly appreciated.
Cards for Patients: Birthdays; Holidays; Thank you; Thinking of you
Knitter Program: If you love to knit or crochet then join our team of almost 40 knitters that provide us with knit/crochet blankets, hats, scarves or mittens for babies and adults or create no-sew fleece blankets.
Cookie Donation Program: Support Capital Health Auxiliary's Children's House Committee who provide cookies and other snacks for cancer patients undergoing treatment at our Cancer Center.
Toy Drive: Bring in a cheer by donating new toys for our Pediatric ER.
Art Supplies: Support our Art Program by donating art supplies.
Book Drive: Donate new or gently used books for all ages and on all genres.
Other donations: Playing Cards, Puzzles, Word Searches, Sudoku.
Please always call and check with the volunteer services office for the current donation requirements.
Click here for details for each one-time project, including supplies, directions, guidelines, and requirements.