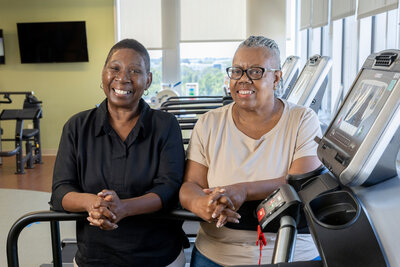 Trenton residents Clara Boatwright and Alice Wells have a lot in common—including being schoolmates in their younger days—and after reuniting as patients in the Vascular Rehabilitation Program at Capital Health Medical Center – Hopewell, they're happy to be together again on the path to better health. 
The Vascular Rehabilitation Program is for people experiencing mild or severe pain in the legs due to lower-extremity peripheral artery disease or similar symptoms that are still present following vascular procedures. Although the conditions that led them to the program might be related, Clara and Alice received individually prescribed exercise and education that was close to home and tailored for each of their specific needs. 
"I thought I was having muscle troubles," said Alice. "My primary care doctor sent me to Dr. Lotto, who confirmed I had poor circulation." Dr. Christine Lotto, a board certified, fellowship trained general and vascular surgeon at Capital Health Surgical Group, referred Alice to the program. 
"I was having pain in my calves when walking," said Clara. "I told my heart doctor (Dr. Kristopher Young, Capital Health – Heart Care Specialists) what was going on, and tests showed that the circulation was bad in my legs. My specialist (also Dr. Christine Lotto) recommended vascular rehab at Capital Health."
Capital Health's team of physicians, nurses, exercise physiologists and registered dietitians work closely with referring physicians to help program participants achieve their rehab goals through personalized exercise, nutrition counseling, risk factor management guidance, and psychological support. Clara and Alice's teams included Laurie Beck, Cardiopulmonary Rehabilitation supervisor; registered nurses Mary Rosner and Kathy Rowe; and exercise physiologist Jack Stolte.
"They answered all my questions and went above and beyond to take care of me," said Alice. "The people were really nice, but tough when they had to be—like friends—and I looked forward to going to my sessions."
"The staff there was wonderful and very caring," said Clara. "They always asked how I was feeling during my exercises would adjust my routine or move me to another machine when they needed to so I would stay on track. They even brought in a yoga instructor to show us some exercises that help!"
In addition to exercise, education is an important part of the Vascular Rehabilitation Program, with topics that include nutrition, cholesterol management, risk factor reduction, and how to quit smoking, all aimed at helping participants meet their health goals. 
"The program helped me a lot. When I first started, I had a lot of stiffness because I wasn't very active," said Clara. "We watched videos that helped us understand the things we were experiencing, and the exercise helped me get all the kinks out. The nutritionist also gave me a lot of insight on how to eat better."
"The team answers all your questions and covers all the bases," said Alice. "We saw films two times each week and had classes that keep you informed along the way so you know where you need to do better."
Even when their time in the program ends, patients are provided with recommendations for managing their conditions on their own. Alice and Clara may have gone their separate ways, but they are happy with their shared journey to healthier living. 
"The rehab team was great and the other patients were very nice too," said Clara. "There was good information in the brochures they gave me, but they also helped me decide on a bicycle that I ride now. I'm also walking every day, sometimes twice a day. I recommend this program to anyone who needs it." 
"They really keep you informed so you're not in the dark after the program is done," said Alice. "I got a lot of good handouts about exercising, healthy eating, and stopping smoking. I enjoyed my time there, but more importantly, it still helps me!"
Capital Health's Vascular Rehabilitation Program, located at Capital Health Medical Center – Hopewell, offers a full complement of aerobic exercise equipment and free weights. To schedule an appointment, call 609-537-6420 or visit capitalheartandvascular.org for more information. 
Click here to learn more about Capital Health's Vascular Rehabilitation Program.