Retired nurse returns to active life after Cardiac Rehabilitation at Capital Health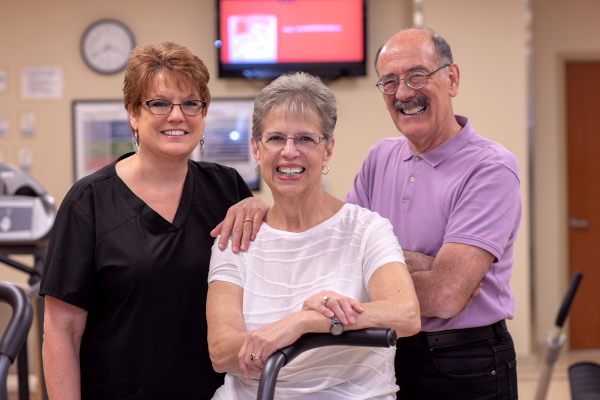 With mid-week lunch plans with friends on her calendar, Ewing, NJ resident Christine Beckett wasn't going to let a March snowfall stand in her way. After clearing her driveway without a hitch on Tuesday afternoon, the retired nurse was feeling fine and met with friends the following day. But by 8 p.m. on Wednesday night, Christine began feeling out of sorts. Women can have different heart attack symptoms than men, and when she felt pain in her cheeks and throat, Christine didn't know what to think.
"I was a nurse for 42 years (retired for five), so I should've known better than to sit around with these symptoms," Christine recalled. When she arrived in the nearby Emergency Department at Capital Health Medical Center – Hopewell near dawn on Thursday, there was no chest pain or nausea, but laboratory tests returned a frightening diagnosis. It was a heart attack.
Christine received a stent, and after recovering from her procedure, her referring physician provided information about cardiac rehab programs offered by several area hospitals. Aside from the convenient location, Christine's recent experiences at Capital Health Medical Center – Hopewell (including excellent care during an outpatient surgery several months prior to her heart attack) made the hospital's Cardiac Rehabilitation Center the natural choice.
The Cardiac Rehabilitation Center offers a full complement of aerobic exercise equipment and free weights, but according to Christine, it's the people who make a difference. Working with referring physicians, Capital Health's team of physicians, nurses, exercise physiologists and registered dietitians helps each person achieve their heart healthy goals through personalized exercise, nutritional counseling, risk factor management, and psychological support.
Christine lives with her son who has a disability. Scheduling rehab around his needs presented challenges, but according to Christine, the Cardiac Rehabilitation team knew that Christine's son was also her biggest motivation.
"They were very understanding," she said. "I'd been walking on my own for three months after my heart attack, but I'm so glad I chose to pursue cardiac rehab." Her progress was closely monitored by Registered Nurse Kathy Rowe, Exercise Physiologist Jack Stolte, and other staff. "It's a lovely group of people that doesn't push, but rather encourages you to challenge yourself," Christine added.
The Center also offers individual and group classes on a regular basis. Covered topics include heart health, risk factor reduction, nutrition, stress management, exercise, and medication guidelines. "The entire staff does such a great job providing support with very informative classes," Christine observed. "It was good for me physically and emotionally."
Upon completion of the cardiac rehab program, patients are provided with verbal and printed recommendations for the continued use of weights and treadmills, though Christine still enjoys walking in the great outdoors the most.
"I do more now than I did at rehab, but I'm so glad I took advantage of the experience!" she said. "If need arises, I'd go back to Capital Health in a heartbeat!"
Visit capitalhealth.org/cardiacrehab for more information about our Cardiac Rehabilitation Center at Capital Health Medical Center – Hopewell. To schedule an appointment, call 609-537-6420.
Click here to learn more about Capital Health's Cardiac Rehabilitation Center.