New Hope athlete returns to learning with help from the Concussion Program at Capital Institute for Neurosciences
Four years ago, 14-year-old Annika Asplundh was the only girl on a boys' hockey team. She was also the team's goalie, so for her, being the center of attention was just part of the game. Unfortunately, Annika was about to learn about another aspect of sports that would get her the kind of attention no one wants: medical attention.
During warm-ups with the team, an errant puck hit Annika on the side of the head. "I had my helmet on, but it was such a strong impact that I immediately got a loud ringing in my ear," said Annika. "It was a pain I had never experienced before."
In sports, everyone knows a bruise or a scrape when they see one, but concussions are invisible injuries that can have long-term consequences if they're not managed properly. Getting an accurate and early diagnosis is the most important first step in recovery.
Soon after her return to school, Annika knew she needed help. "It was hard to focus in class and take notes and I couldn't do it without causing my headache to get worse," she said. By day's end, Annika would be exhausted. In addition to the mounting challenges at school, Annika was afraid that one too many concussions would mean her hockey playing days were over.
Then she met Dr. Emil Matarese, a board certified neurologist and director of the Concussion Program at Capital Institute for Neurosciences.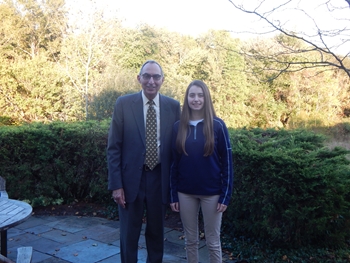 "A trainer at the rink recommended him," said Annika, who went on to sustain two more hockey-related concussions at age 17. "Each concussion was different, and Dr. Matarese was very reassuring and really helped me understand what was going on." Annika underwent thorough testing to evaluate her speech, motor functioning, balance, visual acuity, and mental status.
Rest—for the body and the brain—is the key to recovery. Keeping all activity to a minimum may sound easy, but brain rest (no texting, no computer use, and minimal TV) is particularly challenging for today's student athlete. "But not resting," Dr. Matarese warns, "will extend the time it takes to recover from the concussion, and can make it worse."
Physical therapy also played an important part in Annika's recovery. Physical Therapist Bernadette Stasny from Capital Health's Rehabilitation Services Department specializes in vestibular therapy for treating inner ear/balance disorders that are common with concussions, such as dizziness and a reduced ability to focus. Through eye-teaming exercises and individualized home therapy programs that retrain the brain, she helped Annika improve her concentration and reduce her headaches.
"It was all a learning experience," said Annika. "I had no idea that physical therapy could be used to treat a concussion."
With no outward physical signs of injury, people unfamiliar with concussions tend not to take them seriously. "I'm pretty sure all my teachers thought I was faking it," said Annika. "It made me wish I had a cast on my head to show that the pain was real and not some lie to get out of doing work."
While it's certainly important to help children return to play as athletes, their success in school is even more important. Capital Health's Concussion Program provides workshops and educational programs for teachers and other school staff so they can gain a better understanding of concussions and make accommodations that allow students to return to learn.
Annika is now fully recovered, and thanks to Dr. Matarese, she's become a concussion awareness advocate in her own right, appearing alongside him as a guest speaker at events presented by Capital Health's Concussion Program.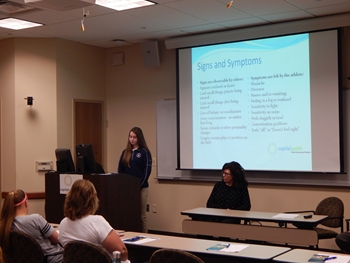 "I never want to give up all the great experiences as an ice hockey player," said Annika. "But the dangers of permanent brain damage are worrisome. We need to continue to spread the word about concussions for the safety and well-being of all athletes."
Visit capitalneuro.org for more information about the Capital Health Concussion Program, part of the Capital Institute for Neurosciences, or call 609-537-7300 to make an appointment with Dr. Matarese.
Click here to learn more about Capital Health's Concussion Program.