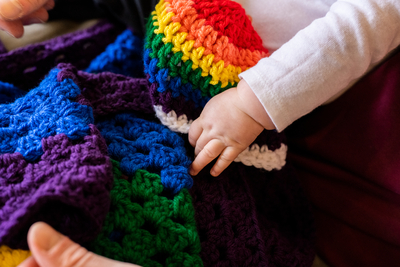 The Rainbow Baby Program helps families who have experienced the loss of a child. To better understand the journey of the families who experience this reality, there are several commonly used terms to describe babies born under these circumstances.
A sunshine baby is a mother's first child who is born healthy and free of complications.
An angel baby is a child who has died, before, during or after birth.
A rainbow baby is a child live born after an angel baby. The term "rainbow" represents the light that follows the darkness of a storm and signals hope for brighter days.
The birth of a rainbow baby can prompt a range of emotions, from joy to guilt to reemerging grief. Our goal is to support families through this experience. One of the foremost factors in the grief experience of families who endure loss is the pain that can come with others not mentioning the name of their angel baby. The Rainbow Baby Program offers permission to others to say their name and provides families the opportunity to include all of their children in the rainbow baby birth story, thereby making the grief journey a little less painful and the birth story a bit more joyful.
Labor and Delivery Arrival
Expectant mothers of rainbow babies who are interested in participating in Capital Health's Rainbow Baby Program can reach out to the program director prior to or upon arriving in Labor & Delivery (LDR) at Capital Health Medical Center – Hopewell, or they can ask to be referred to the program director by their Capital Health OB/GYN provider. If a family does not connect with the director prior to admission to LDR and the primary nurse learns that the family previously experienced a loss, the nurse contacts the director to provide further guidance if the family is interested in learning more.
As part of the Rainbow Baby Program, a printed rainbow is placed on the door of the mother's room at Capital Health Medical Center – Hopewell to alert hospital staff entering the room of the complex emotions the family may be experiencing. Every rainbow baby receives a themed bundle that includes a hat and blanket (thanks to the generous efforts of our volunteers) and a baby book donated by former rainbow baby families.
For more information about Capital Health's Rainbow Baby Program, please call 609-303-4372 or email [email protected].