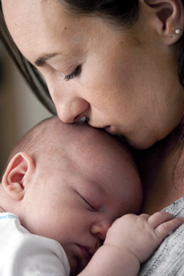 New parents want to give their babies the very best. When it comes to nutrition, the best first food for babies is breast milk.
But, for all its health benefits, breastfeeding problems may arise.
That's when moms visit the Lactation Center at Capital Health Medical Center - Hopewell. The Lactation Center offers daily lactation consultations to admitted patients, phone consultations and outpatient consultations in a warm and welcoming atmosphere. Our Lactation Center staff also is happy to meet with mothers who give birth at hospitals other than Capital Health Medical Center - Hopewell.
The goal of the Center is to help breastfeeding mothers overcome any problems they may be experiencing as well as offer them support so they are able to reach their breastfeeding goals. Our certified lactation consultants have years of experience and knowledge to help mothers give their babies the very best food—breast milk.
The Center staff helps moms feel relaxed in a comfortable setting rather than in a 'sterile' environment typical of most hospitals. Our consultants sit down with the mother, review any problems she might be experiencing, such as latching problems, poor weight gain in the baby, engorgement, nipple pain, and nipple confusion, observe a feeding, and ultimately offer her solutions so that she can continue with breastfeeding.
Capital Health also offers a number of services before, during, and after birth to help prepare a woman to breastfeed. They include: breastfeeding classes to be taken before the birth of your baby; daily hospital room visits by certified lactation consultants after you have given birth; telephone support via the lactation line after leaving the hospital; and New Parent Mornings, a support group that meets every Tuesday from 10:30 a.m. to noon at Capital Health - Hamilton.
All of the staff are registered nurses and board certified by the International Board of Lactation Consultant Examiners, the gold standard in lactation care. In addition, Capital Health has been earned the prestigious International Lactation Consultant Care Award for excellence.

Capital Health Medical Center - Hopewell is a Baby–Friendly® designated hospital through the World Health Organization and UNICEF, and will support and protect your breastfeeding relationship. We were only the second hospital in New Jersey to achieve this status.
At Capital Health Medical Center - Hopewell, our lactation consultants support a woman's decision to breastfeed and will do all we can to help make a mother's breastfeeding experience positive and rewarding.
To schedule a lactation consultation, call the Capital Health Lactation Center at 609-303-4163.
 
References for moms
Baby-Friendly® and Baby-Friendly Logo is a registered certification mark of UNICEF.  The term is reserved for facilities who have passed an on-site assessment by BFUSA confirming that the facility has implemented the Baby Friendly Hospital Initiative's Ten Steps to Successful Breastfeeding Program.