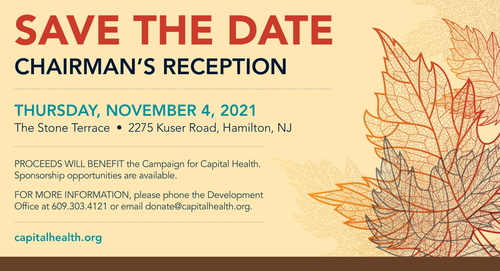 The 2021 Chairman's Reception is scheduled for Thursday, November 4, 2021 at The Stone Terrace in Hamilton Township, New Jersey. Details coming soon!
The Chairman's Reception celebrates the exceptional talent, skill, generosity and unwavering dedication of so many individuals whose collective commitment to Capital Health is pivotal to the continued growth and success of our great institution. All proceeds from our premier annual event benefit the Campaign for Capital Health.
Capital Health's mission is to provide comprehensive, quality health care services to improve and sustain the health and well-being of those who reside in our neighboring communities. Our physicians, nurses and clinical staff are deeply vested in Capital Health's values - Integrity, Excellence, Compassion and Teamwork. As the region's leading health care system, we are committed to providing comprehensive, technologically advanced, and compassionate health care to our patients at every stage of life.
The landscape of health care is ever changing and these changes bring forth many challenges. Capital Health's ability to fulfill our commitment to health and well-being is increasingly dependent upon the generosity and support of our friends, partners, and the broader community. The Campaign for Capital Health helps to ensure that vital and nimble financial resources remain available as world-class health care is offered close to home.
For additional information, please call the Development Office at 609-303-4121 or email Jennifer M. Antinoro at [email protected].
Click here to register for the 2021 Chairman's Reception.
Click here to view sponsorship opportunities for the 2021 Chairman's Reception.
Click here to view the 2021 Chairman's Reception invitation.