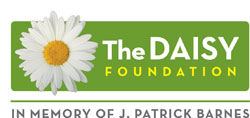 Capital Health is proud to partner with the DAISY Foundation to present the DAISY Award for Extraordinary Nurses. The DAISY Award was created to recognize nurses for their compassion and dedication demonstrated on the job every day.
DAISY is an acronym for Diseases Attacking the Immune System. The Foundation was formed in November, 1999 by the family of J. Patrick Barnes, who died at age 33 of complications of Idiopathic Thrombocytopenic Purpura (ITP).
Patrick's family was so impressed with the amazingly compassionate care he received from nurses during his eight-week hospitalization they sought to honor his memory and acknowledge the incredible care he received. The family felt compelled to express their profound gratitude to nurses for the work they do for patients and their families every day. This is the primary mission of The DAISY Foundation.
This award allows patients, families, and colleagues to recognize the work of exceptional nurses by nominating them for this achievement.
What sets a DAISY Award-winning nurse apart?
The DAISY Award recognizes and celebrates the extraordinary compassionate and skillful care given by nurses every day.
DAISY nominees should demonstrate the I CARE principles as recognized by the DAISY Foundation:
Integrity: Maintains trust and confidence of patients
Commitment: Serves patients and families by honoring Capital Health mission
Advocacy: Focuses on serving the best interest of patient
Respect: Provides dignity and respect to everyone
Excellence: Strives for highest quality care
Honorees will be selected twice a year, one honoree from each campus.
Submit your nomination for an exemplary nurse by completing our online form OR download the nomination form and return to:
Capital Health Medical Center – Hopewell
ATTN: Nursing Administration
DAISY Award Nomination Committee
One Capital Way
Pennington, NJ 08534
Questions? Contact Capital Health Nursing Administration (Hopewell: 609-303-4150, RMC: 609-394-6033).