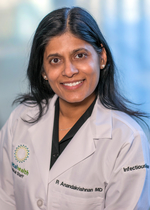 Dr. Rajashree Anandakrishnan is a board certified infectious disease specialist with more than 15 years of experience diagnosing and treating potentially serious infections. Working closely with referring physicians, Dr. Anandakrishnan performs physical exams and lab studies to detect infections and provides specialized treatment to manage them and prevent recurrence.
Dr. Anandakrishnan completed her infectious disease fellowship training at the University of Massachusetts in Worcester, MA and completed her internal medicine residency at Prince George's Hospital Center in Cheverly, MD. She received her medical degree from the University of Mysore, Adichunchanagiri Institute of Medicine in Bellur, India. Before joining Capital Health, Dr. Anandakrishnan was a consulting physician for private practices and hospitals throughout Mercer County. She is chair of the Medicine Department and Medical Records and serves on the Medical Executive Committee of the Capital Health Medical Staff.
Click here for a list of accepted insurances at Capital Health - Infectious Disease Specialists.