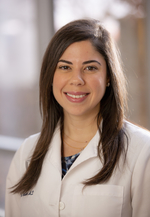 Dr. Ghusson is a board certified, fellowship trained infectious disease specialist. Working closely with referring physicians, she diagnoses and treats patients with potentially serious infections and provides specialized care to manage them and prevent recurrence.
Dr. Ghusson completed her fellowship training in infectious disease (serving as chief fellow) at Thomas Jefferson University Hospital in Philadelphia, PA where she also completed her internal medicine residency. Dr. Ghusson received her medical degree from The George Washington University School of Medicine in Washington, D.C.
Dr. Ghusson has published research in peer-reviewed medical journals, participated in infectious disease research while at Thomas Jefferson University Hospital, and presented at the City Wide Infectious Disease Conference in Philadelphia, PA. She also contributed to research that was presented at the national conference of the American Society for Clinical Pathology. Fluent in Arabic, she is a member of the Infectious Disease Society of America, the American College of Physicians, and the American Medical Women's Association.
Click here for a list of accepted insurances at Capital Health - Infectious Disease Specialists.