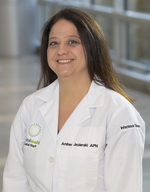 Amber Jezierski is a board certified advanced practice nurse with experience diagnosing and treating potentially serious infections. She received her nursing degree at Capital Health System School of Nursing in Trenton, NJ; her Bachelor of Science in Nursing degree from University of Phoenix in Phoenix, AZ; and her Master of Science in Nursing: Adult Gerontological Acute Care Nurse Practitioner degree from Rutgers University School of Nursing in Newark, NJ.
Before joining Capital Health – Infectious Disease Specialists, Amber was a nurse on the Trauma/Medical Intensive Care Unit at Capital Health Regional Medical Center (RMC) in Trenton, NJ, where she monitored and coordinated care for trauma, surgical, medical, and coronary patients. Amber is a member of the American Association of Critical Care Nurses and the American Association of Nurse Practitioners.
Click here for a list of accepted insurances at Capital Health - Infectious Disease Specialists.