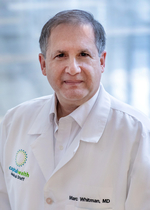 Dr. Marc Whitman is a board certified infectious disease specialist with more than 25 years of experience in diagnosing and treating patients with serious infections. Dr. Whitman works in careful coordination with referring physicians to identify, treat, and prevent the recurrence of serious infections that require specialized care.
Dr. Whitman completed fellowship training in infectious disease at the Medical College of Pennsylvania and completed his internal medicine residency at Graduate Hospital, both in Philadelphia, PA . He received his medical degree from Robert Wood Johnson Medical School – University of Medicine and Dentistry of New Jersey in Piscataway, NJ. Dr. Whitman has collaborated on research that has been published in a number of medical journals. He previously served as president of the Capital Health Medical Staff and currently serves on its Medical Executive Committee. He also serves as hospital epidemiologist and infectious disease section chief at Capital Health, where he currently chairs the Infection Prevention Committee.
Click here for a list of accepted insurances at Capital Health - Infectious Disease Specialists.