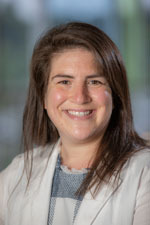 Dr. Joanna Tolin is a board certified, fellowship trained endocrinologist who provides diagnosis and treatment of hormone imbalances and other health issues related to the endocrine system, including (but not limited to) diabetes, thyroid disorders, and metabolic diseases.
Dr. Tolin received her medical degree at Tufts University School of Medicine in Boston, Massachusetts. After her internal medicine residency at Thomas Jefferson University Hospital in Philadelphia, Pennsylvania, Dr. Tolin completed her fellowship training in endocrinology at Cooper University Hospital in Camden, New Jersey. In addition to being board certified in endocrinology, diabetes and metabolism, Dr. Tolin is board certified in internal medicine.
Before joining Capital Health, Dr. Tolin was in private practice in Feasterville, Pennsylvania. In academic settings, she was an instructor of clinical medicine at the University of Pennsylvania (hospital medicine) and Thomas Jefferson University Hospital (neurohospitalist medicine).
Dr. Tolin has published endocrinology research in peer-reviewed medical journals and presented research posters at medical society conferences. She is a member of the American Association of Clinical Endocrinologists and the Endocrine Society.
Click here to schedule an online appointment with Dr. Tolin (Bordentown location).
Click here to schedule an online appointment with Dr. Tolin (Lower Makefield location).
 
Click here for a list of accepted insurances at Capital Health - Endocrinology Specialists.