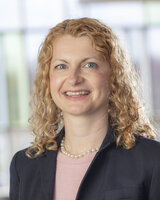 Dr. Ewa Ruel is a board certified, fellowship trained endocrinologist who treats all manner of endocrine-related conditions. Trained in thyroid ultrasound and thyroid nodule fine needle aspiration, Dr. Ruel provides care for patients with thyroid disorders (including, but not limited to thyroid nodules and thyroid cancer), hyperthyroidism, as well as type 1 and type 2 diabetes, gestational diabetes, hyperparathyroidism, and adrenal and pituitary disorders. She is dedicated to improving the health and well-being of all her patients, treating acute and chronic endocrine conditions as well as helping patients with underlying nutritional and lifestyle changes.
Dr. Ruel received her undergraduate degree in Biology (cum laude) from Georgetown University, where she contributed to research on hormonal regulation of breast cancer. After receiving her medical degree from Virginia Commonwealth University School of Medicine in Richmond, VA, Dr. Ruel completed her internship and residency in Internal Medicine at Thomas Jefferson University Hospital in Philadelphia, PA. She then completed a rigorous fellowship in endocrinology, diabetes and metabolism at Duke University Medical Center in Durham, NC, where she was also a clinical research fellow in the Division of Endocrinology. While in fellowship, she published a number of first author research studies in leading peer-reviewed endocrinology journals (including JCEM and Endocrine), and presented at international endocrine conferences. She was awarded the prestigious Endocrine Fellows Foundation Marilyn Fishman Grant. A detailed research bibliography can be found on PubMed.
Dr. Ruel was raised in Princeton, NJ and graduated from John Witherspoon Middle School and Princeton High School. Before joining Capital Health, Dr. Ruel was in private practice in Princeton, NJ, and is happy to continue working with patients in the area where she grew up. She is also board certified in internal medicine, is fluent in Polish, and is a member of the American Thyroid Association, the Endocrine Society, and the American Association of Clinical Endocrinologists.
Click here to schedule an online appointment with Dr. Ruel (Hopewell location).
Click here to schedule an online appointment with Dr. Ruel (Lower Makefield location).
 
Click here for a list of accepted insurances at Capital Health - Endocrinology Specialists.