Capital Health Medical Center – Hopewell received an "A" Hospital Safety Grade from The Leapfrog Group, a national nonprofit upholding the standard of patient safety in hospitals and ambulatory surgery centers. This national distinction celebrates Capital Health's achievements in prioritizing patient safety by protecting patients from preventable harm and errors. Capital Health Regional Medical Center in Trenton, New Jersey received a "B" in the spring 2023 Hospital Safety Grade. The new grades reflect performance primarily during the height of the pandemic.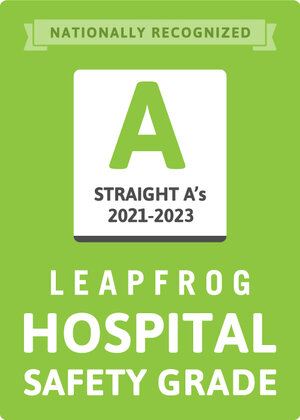 "Throughout the course of the COVID-19 pandemic, we safely provided innovative services at our Cancer Center, the Josephine Plumeri Birthing Center and Regional Perinatal Center, and centers of excellence in many disciplines," said Al Maghazehe, president and CEO, Capital Health. "With an 'A' from the Leapfrog group, Capital Health Medical Center – Hopewell shows residents in our community that as we move beyond the pandemic, they can remain confident in our continuing status as a health care leader in the region." 
"This Leapfrog recognition reaffirms Capital Health's commitment to the community and dedication to improving quality and safety outcomes throughout our organization," said Dr. Mark Arcaro, vice president of Clinical Performance at Capital Health. "And while the latest grade reflects our efforts during the pandemic, we are always looking toward the future to make sustained improvements and exceed national standards of care across the board."
The Leapfrog Group, an independent national watchdog organization, assigns an "A," "B," "C," "D" or "F" grade to general hospitals across the country based on over 30 national performance measures reflecting errors, accidents, injuries and infections, as well as systems hospitals have in place to prevent harm. 
"This new update of Hospital Safety Grades shows that, at the national level, we saw deterioration in patient safety with the pandemic," said Leah Binder, president and CEO of The Leapfrog Group. "But this hospital received an 'A' despite those challenges. I congratulate all the leaders, staff, volunteers and clinicians who together made that possible." 
The Leapfrog Hospital Safety Grade is the only hospital ratings program based exclusively on hospital prevention of medical errors and harm to patients. The grading system is peer-reviewed, fully transparent and free to the public. Grades are updated twice annually, in the fall and spring.
To see Capital Health Medical Center - Hopewell's full grade details and to access patient tips for staying safe in the hospital, visit HospitalSafetyGrade.org and follow The Leapfrog Group on Twitter, Facebook and via its newsletter. 
+++
About Capital Health
Capital Health is the Central New Jersey/Lower Bucks County region's leader in providing progressive, quality patient care with significant investments in physicians, nurses and staff, as well as advanced technology. Comprised of two hospitals (Capital Health Regional Medical Center in Trenton and Capital Health Medical Center – Hopewell), satellite emergency departments In Browns Mills and East Trenton, outpatient facilities in Bordentown and Hamilton, and an extensive network of primary and specialty care practices across the region, Capital Health is a dynamic health care resource accredited by DNV.
A five-time Magnet-designated health system for nursing excellence, Capital Health serves as a Level II regional trauma center, regional perinatal center (including a Level III NICU), and emergency mental health screening center. Capital Health also offers the region's first and most experienced Pediatric Emergency Department and New Jersey's first Autism - Friendly Pediatric Emergency Department. Capital Health also provides innovative programs such as Capital Institute for Neurosciences including its certified Comprehensive Stroke Center; nationally accredited Center for Comprehensive Breast Care; Center for Digestive Health; Marjorie G. Ernest Joint Replacement Center of Excellence; award-winning Cancer Center; and the Heart and Vascular Institute, which includes the region's first accredited Chest Pain Center. For more information, visit www.capitalhealth.org.
###
About The Leapfrog Group                       
Founded in 2000 by large employers and other purchasers, The Leapfrog Group is a national nonprofit organization driving a movement for giant leaps for patient safety. The flagship Leapfrog Hospital Survey and new Leapfrog Ambulatory Surgery Center (ASC) Survey collect and transparently report hospital and ASC performance, empowering purchasers to find the highest-value care and giving consumers the lifesaving information they need to make informed decisions. The Leapfrog Hospital Safety Grade, Leapfrog's other main initiative, assigns letter grades to hospitals based on their record of patient safety, helping consumers protect themselves and their families from errors, injuries, accidents and infections. For more, follow us on Twitter and Facebook, and sign up for our newsletter.