The most common spinal lesions are metastatic tumors, which occur in 5-10% of all patients with cancer. In the U.S., spinal metastases affect more than 100,000 individuals per year. Prostate, breast, and lung cancer account for most spinal metastases; hematopoietic (non-Hodgkin's lymphoma and multiple myeloma) and renal cancer are other common sources. Benign spinal tumors and vascular malformations are much less common than spinal metastases, with an incidence of approximately 10,000 cases per year in the U.S.
Using the CyberKnife® System to treat spine lesions:
The CyberKnife® System treats lesions anywhere in the spine with high accuracy. Metastatic disease, benign spine tumors, and vascular malformations have been treated with the CyberKnife® System at all levels of the spinal column. Recent published reports show high rates of tumor control; significant, rapid, and durable pain relief; maintenance or improvement in mental and physical quality of life; and low rates of complications, comparable to that observed for intracranial radiosurgery treatments.
Xsight™ Spine Tracking System:
Spinal treatment can be performed using fiducial markers implanted in the spine, and a few centers treat upper cervical spine lesions based on skull landmarks. The Xsight Spine Tracking System, released in the Spring of 2005, localizes the target by tracking spinal skeletal structures. This greatly increases patient comfort because an implantation procedure is not required, and allows patients to be treated sooner because they do not have to recover from the implantation procedure. Recent papers have reported treatment accuracy that rivals that attainable with fiducial tracking.
T6 Solitary Breast Metastasis
(Courtesy University of Pittsburgh Medical Center)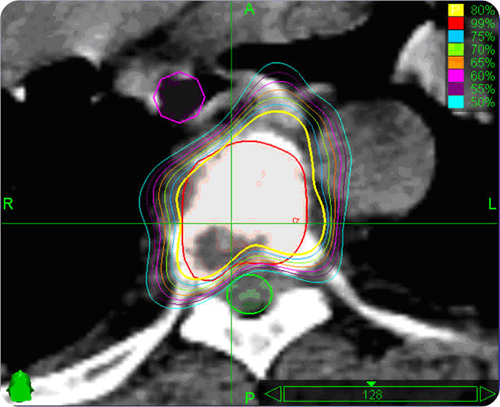 Axial planning image for a breast metastasis to spinal T6. Conformal dose distributions avoid the critical structures of spinal cord (outlined in green) and esophagus (outlined in red).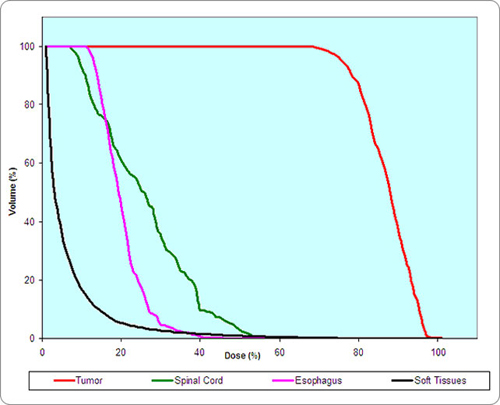 Dose Volume Histogram (DVH) demonstrates the high dose to the tumor and the sparing of dose to the spinal cord and esophagus.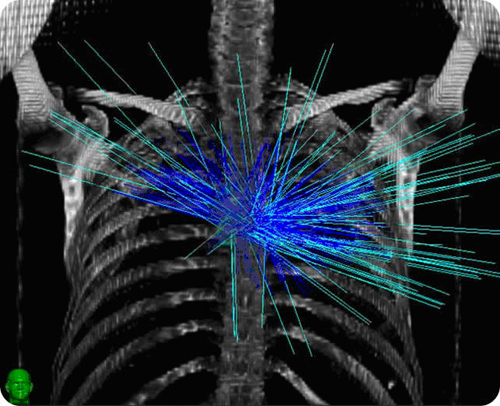 Anterior-posterior rendering of CyberKnife® beams demonstrates the non-isocentric treatment of this patient resulting in optimal treatment to the tumor with sparing of the critical structures. Light blue lines represent beams actually delivered.

Pre-treatment T2-weighted MRI showing the impingement on the cord by the compressed T6 vertebral body with a solitary breast metastasis.

One month post-treatment T2-weighted MRI shows the benefits of spinal radiosurgery in this case with significant decompression of the spinal cord. The patient experienced significant pain relief after one month and continued to experience pain relief at four months.
References
1.Murphy MJ, Chang S, Gibbs I, Le QT, Martin D, Kim D. Image-guided radiosurgery in the treatment of spinal metastases. Neurosurg Focus 2001;11(6):e6. PubMed ABSTRACT
2.Mut M, Schiff D, Shaffrey ME. Metastasis to nervous system: spinal epidural and intramedullary metastases. J Neurooncol 2005;75(1):43-56. PubMed ABSTRACT
3.Gerszten PC, Burton SA, Ozhasoglu C, Vogel WJ, Welch WC, Baar J, et al. Stereotactic radiosurgery for spinal metastases from renal cell carcinoma. J Neurosurg Spine 2005;3(4):288-95. PubMed ABSTRACT
4.Gerszten PC, Burton SA, Quinn AE, Agarwala SS, Kirkwood JM. Radiosurgery for the treatment of spinal melanoma metastases. Stereotact Funct Neurosurg 2005;83(5-6):213-21. PubMed ABSTRACT
5.Gerszten PC, Burton SA, Welch WC, Brufsky AM, Lembersky BC, Ozhasoglu C, et al. Single-fraction radiosurgery for the treatment of spinal breast metastases. Cancer 2005;104(10):2244-54. PubMed ABSTRACT
6.Gerszten PC, Welch WC. CyberKnife® radiosurgery for metastatic spine tumors. Neurosurg Clin N Am 2004;15(4):491-501. PubMed ABSTRACT
7.Gerszten PC, Burton SA, Belani CP, Ramalingam S, Friedland DM, Ozhasoglu C, et al. Radiosurgery for the treatment of spinal lung metastases. Cancer 2006;107(11):2653-61. PubMed ABSTRACT
8.Dodd RL, Ryu MR, Kamnerdsupaphon P, Gibbs IC, Chang SD, Jr., Adler JR, Jr. CyberKnife® radiosurgery for benign intradural extramedullary spinal tumors. Neurosurgery 2006;58(4):674-85; discussion 74-85. PubMed ABSTRACT
9.Sinclair J, Chang SD, Gibbs IC, Adler JR, Jr. Multisession CyberKnife® radiosurgery for intramedullary spinal cord arteriovenous malformations. Neurosurgery 2006;58(6):1081-9; discussion 81-9. PubMed ABSTRACT
10.Gerszten PC, Ozhasoglu C, Burton SA, Vogel WJ, Atkins BA, Kalnicki S, et al. CyberKnife® frameless stereotactic radiosurgery for spinal lesions: clinical experience in 125 cases. Neurosurgery 2004;55(1):89-98; discussion 98-9. PubMed ABSTRACT
11.Gerszten PC, Burton SA, Ozhasoglu C, Welch WC. Radiosurgery for spinal metastases: clinical experience in 500 cases from a single institution. Spine 2007;32(2):193-9. PubMed ABSTRACT
12.Degen JW, Gagnon GJ, Voyadzis JM, McRae DA, Lunsden M, Dieterich S, et al. CyberKnife® stereotactic radiosurgical treatment of spinal tumors for pain control and quality of life. J Neurosurg Spine 2005;2(5):540-9. PubMed ABSTRACT