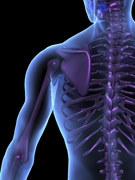 When dealing with pain, accurate diagnosis is critical to effective treatment. At the Capital Institute for Neurosciences' Center for Pain Management, the first step is critical: finding the source of pain.
Our team is dedicated to managing pain from a variety of sources including pain resulting from cancer, headaches, head and facial pain, back pain, myofascial pain, neuropathic pain and pain from trauma or injuries. Specialists at our Center for Pain Management are able to work closely with other physicians within the Institute to provide a comprehensive treatment plan.
Once the cause of the pain is found, specialized treatment options can include medication, and more complex treatment options including implantable nerve stimulators, intrathecal (into the spinal fluid) drug delivery systems, and minimally invasive or traditional surgery.
Appointments with our pain team can be scheduled by calling the Institute at 267-802-1002.