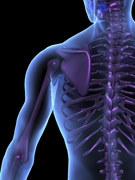 When dealing with pain, accurate diagnosis is critical to effective treatment. At the Capital Institute for Neurosciences' Center for Pain Management, the first step is critical: finding the source of pain.
Our team is dedicated to managing pain from a variety of sources including pain resulting from cancer, headaches, head and facial pain, back pain, myofascial pain, neuropathic pain and pain from trauma or injuries. Specialists at our Center for Pain Management are able to work closely with other physicians within the Institute to provide a comprehensive treatment plan.
Once the cause of the pain is found, specialized treatment options can include medication, and more complex treatment options including implantable nerve stimulators, intrathecal (into the spinal fluid) drug delivery systems, and minimally invasive or traditional surgery.

Click here to schedule an appointment with Center for Pain Management (Hopewell).
Click here to schedule an appointment with Center for Pain Management (Langhorne).
Allow our staff to assist you with scheduling your appointments. Simply call the office at  267-802-1002 or click one of the links above if you prefer to schedule your appointment with us online. All appointments scheduled online are reviewed by the office and we will call you if needed to verify further information prior to your appointment. Select the appointment reason that best describes your need for care and preferred care provider. We look forward to seeing you soon.
If you are a new patient, click here after scheduling to view and print our new patient forms and here for release of information form to prepare for your visit. For any questions or assistance after scheduling your appointment, please contact the office. 
Please review our list of accepted insurance plans here. Our office may call prior to your appointment if we have questions or information pertaining to your indicated insurance plan or any requirements for referrals.  
 
Special requests: If you require special accommodations for your office visit (i.e. transportation, interpretation services, etc.) please contact the office directly.