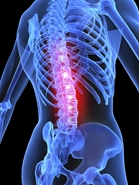 Specialists at the Institute's Center for Spinal Disorders diagnose and provide patients with a wide range of treatment options for back pain, degenerative diseases, spinal trauma, spinal tumors and infections.
Whether it is an early approach to back pain, or surgical options provided by neurosurgeon Dr. Lee Buono, our team can help. Surgical options include the latest in minimally invasive surgery, and our team can provide you with a plan that targets your specific problem while doing it in the least invasive manner possible.
The Institute also features a Center for Pain Management where patients can be seen for back pain that might benefit from specialized treatment options including medication, epidural steroid injections, and more complex treatment options including implantable nerve stimulators and intrathecal (into the spinal fluid) drug delivery systems.
Our Center for Spinal Disorders treats spinal conditions including back and neck pain; herniated discs and pinched nerves; spondylolisthesis; degenerative spine disease; spinal stenosis; scoliosis; spinal trauma and tumors; and vascular lesions.
Working in coordination the Institute's team of neurologists, neurosurgeons, anesthesiologists and pain specialists, as well as specialists from throughout our health care system including experts in our regional cancer center, physicians in our spine center are able to deliver the continuum of care needed to provide you with a comprehensive approach to your specific needs.
Appointments with any of our specialists can be scheduled by calling 609-537-7300