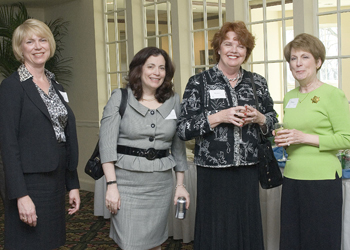 Capital Women in Philanthropy (CWP) is a giving circle. A growing trend in philanthropy, giving circles empower members, particularly women, to play a more significant role in philanthropy than those members could without the financial leverage provided by the group. An outgrowth of investment clubs, giving circles require a minimal amount of time and energy on the part of members yet result in substantial financial contributions to Capital Health programs and services.
Members' contributions will be pooled in an account at Capital Health to be used at the sole discretion of the CWP membership. CWP will grant those funds on an annual basis to Capital Health programs and services that have applied through the CWP grant process and have been chosen by a vote of the CWP membership.
Our mission
Capital Women in Philanthropy is a collective formed to encourage women to pool their philanthropic resources to improve programs and services at Capital Health. In doing so, they enrich their own lives as well as the health and well being of others. 
Our membership
Our members reflect the diversity of our community and represent grateful patients, nurses, physicians, staff, and friends of Capital Health, including business and community partners. 
While women who wish to participate in CWP may join at any time, an annual membership event will be held each spring. Participation is encouraged at any of the following membership levels: $250-$499, $500-$999 and $1,000+. 
Memberships are renewable annually and payment may be made in quarterly installments. Membership contributions must be paid in full by December 31st of each calendar year in order to have voting rights. Members will be listed alphabetically as members of CWP in the Development Office's annual Donor Report and in general listings under giving clubs. 
Our goals
To encourage philanthropy among women with shared values and to promote women as philanthropists.
To make grants through Capital Health that support its mission and vision.
To recruit a membership that reflects the communities served by Capital Health.
To advocate for Capital Health and to inform others about opportunities for participating in philanthropy through the Capital Health Foundation.
To effectively steward the charitable dollars entrusted to the membership.
Recent Capital Women in Philanthropy grant recipients include:
| | | |
| --- | --- | --- |
| Supporting Grieving Parents (Bereavement Services)  |   | |
| Proposal for Peace (Pastoral Care) |   |  Early Intervention Services |
| Exercise Program for Oncology Patients (Oncology) |   | |
| Medication Safety Program (Pharmacy) |   |  Compression Garments (Diabetes Care) |