Navid Redjal, MD
Director, Neurosurgical Oncology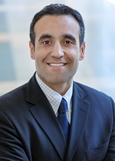 Dr. Navid Redjal, director of Neurosurgical Oncology, is a Harvard trained neurosurgeon with extensive research and clinical background in neuro-oncology. He has been involved in significant translational brain cancer research and neuro-oncology clinical trials with research fellowships at the Dana-Farber Cancer Institute and Massachusetts General Hospital/Harvard Medical School.
Dr. Redjal graduated from medical school at Harvard with honors, specifically completing the Harvard-MIT Health Sciences and Technology Society curriculum with his research thesis focusing on targeted therapeutics for brain cancer. After completion of medical school, he completed his residency at the Massachusetts General Hospital/Harvard neurosurgery program where he also completed a stereotactic proton radiosurgery fellowship.
Following his residency, Dr. Redjal joined the faculty at Harvard Medical School as an instructor in surgery while also serving as an attending neurosurgeon at Massachusetts General Hospital (MGH), a teaching hospital of Harvard Medical School. After his time at Harvard/MGH, Dr. Redjal joined Kaiser Permanente in Los Angeles as an attending neurosurgeon with focus in neuro-oncology and worked with neuro-oncologists to advance participation in brain cancer clinical trials.
Dr. Redjal has conducted significant translational research in targeted local therapy for brain cancer via stem cell delivery and low-dose chemotherapy and has been published in a number of medical journals devoted to neuroscience, neurosurgery, and cancer research. He has been involved with Congress of Neurologic Surgeons glioma guidelines committee and has coauthored recent treatment guidelines for glioblastoma multiforme (GBM) and low grade gliomas.
Dr. Redjal is a member of the American Association of Neurological Surgeons, the Congress of Neurological Surgeons, the American College of Surgeons, and a number of other professional societies.